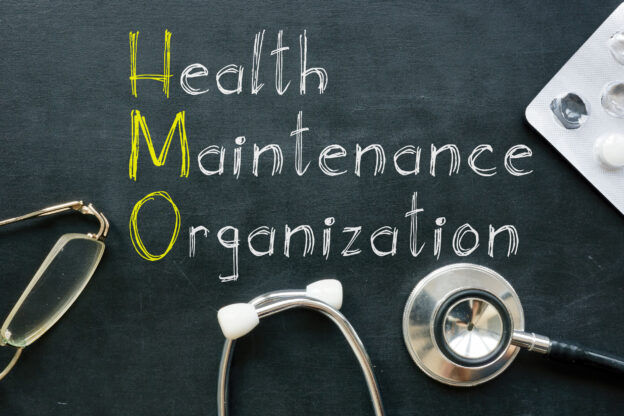 Health maintenance organizations (HMOs) are health insurance providers with a network of contracted health service providers and facilities. The customer pays a fee to access health care services in the HMO network.
How HMO Works
The HMO expands its network by contracting primary care physicians (for example, internists and family doctors), specialists (for example, cardiologists and ophthalmologists), and clinical facilities (for example, specialized hospitals and clinics). HMO agrees to pay these parties a certain level of compensation for the various services they provide to their customers.
In exchange for a monthly fee, or premium, subscribers are provided access to health care providers on the network at no additional cost. Subscribers can access health care services outside the network with HMO approval but may need to pay for part of the service.
Unique Benefits of HMOs
Companies often offer health benefits to employees through HMOs. HMOs are some of the most popular managed care plans that employers provide to their employees. The premium structure of the HMO reduces health care costs for the family and, at the same time, benefits network providers by providing more patients.
HMO not only provides members with emergency treatment but also pays attention to preventive health care in daily life. The most fundamental reason for the birth of HMO is to control the soaring medical service costs, and if the patients get sick less, then the medical service costs will naturally be controlled.
Therefore, HMO encourages members to strengthen preventive health care, change unhealthy lifestyles with the help of general practitioners, complete regular health checks, actively prevent diseases, and so on.
Top 10 HMOs in Nigeria
Here are the best Health Maintenance Organizations (HMOs) in Nigeria
Healthpoint Management Limited
Healthpoint Management Limited provides health insurance plans to customers at monthly subscriptions. The mission is to promote health inclusiveness in Africa by making healthcare more accessible and affordable to everyone. It has been in operation since 2018. Healthpoint offers the following health plans:
Standard
Standard Plus
Premium
Pro
Pro Plus
Pro Max
Hygeia HMO
The Mission of Hygeia HMO is to help its members, and their families, SMEs, and large corporate organizations access quality and affordable healthcare. It has been in operation since 1986. Hygeia HMO offers the following health plans:
Personal & Family Health Plans
Small Business Employees Health Plans
Corporate Health Plans
Avon HMO
Avon HMO (a subsidiary of the Heirs Holdings Group) was duly registered by the regulatory authority (NHIS) to operate as a national HMO in October 2012 but commenced operations in 2013. Avon HMO offers the following health plans:
Individual Health Plan
Couples' Health Plan
Family Health Plan
SME and Small Groups Health Plan
Companies and Large Groups Health Plan
International Coverage
AIICO Multishield Limited
AIICO Multishield Limited came into operation in 1997, making it one of the first set of Health Maintenance Organizations accredited by the National Health Insurance Scheme in Nigeria. They offer four categories of Health Plan Benefits, which are:
Standard Benefits (#350,000/Limit of Liability)
Executive Benefits (#500,000/Limit of Liability)
Super Executive Benefits (#1,000,000/Limit of Liability)
Magnum Benefits (#5,000,0000/Limit of Liability)
Integrated Health Care Limited
Integrated Health Care Limited is a limited liability company incorporated in 2000 by the Corporate Affairs Commission, Abuja, to carry out the business of health management services. They offer the following services:
Private Health Insurance
Corporate Plan
Family/Individual Plan
Social Health Insurance
Formal Sector Plan
TSHIP Plan
CBSHIP Plan
Princeton Health Limited
Princeton Health Limited was established in 1991 and incorporated in 2000. Its mission is to be a bridging gap between the populace and medical care providers. They offer a blue plan and Royal plan Premiums.
Defence Health Maintenance Limited
Defence Health Maintenance Limited (DHML) is a corporate entity owned by the ministry of defence and the Nigerian Armed Forces as a health maintenance organization (HMO). The reason for its establishment was the challenges involved in providing access to quality health care services for all eligible military personnel (serving and retired) and their families.
DHML brings together the health resources of the Nigerian Army, the Nigerian Navy, and the Nigerian Air Force. It complements these with a network of civilian healthcare providers and professionals, to provide better access to quality healthcare services.
Clearline International Limited (HMO)
Clearline International Limited (HMO) prides itself as the best health insurance broker in Nigeria. It was incorporated in January 1994, as a limited liability company. It was also duly registered to underwrite health insurance in Nigeria, with the National Health Insurance Scheme (NHIS). They offer the following Health Plans:
Corporate Health Insurance Scheme
Individual Policy
Tertiary Institution Social Health Insurance Program (TISHIP)
ProHealth HMO Limited (ProHealth)
The Mission of ProHealth HMO Limited (ProHealth) is to become a world-class leading Health Maintenance Organization, providing efficient and affordable health care support services to all Nigerians and neighboring countries in Africa. They offer four categories of Health Plan, which are:
Diamond Plan
Ruby Plan
Emerald Plan
Perl Plan
Novo Health Africa HMO
Novo Health Africa is a National Health Maintenance Organization providing health care across Nigeria and accredited by the National Health Insurance Scheme (NHIS) to provide health care delivery solutions through the continuum of care. They offer the following Health Plans:
NHA Corporate Plan
NHA Retail Plan
NHA Transnational Plan
NHIS Plan